If you are someone who has made a new year resolution to get fit and healthy and active in 2015, then you're in luck, as you will have a slew of wearable health gadgets and fitness trackers to keep you company and monitor your every move, from your heartbeats to your calories! If you are the kind of person who has always been health conscious, counting your steps as well as your calories, then these fitness trackers can take your active lifestyle to a whole new level. Read on to find out more!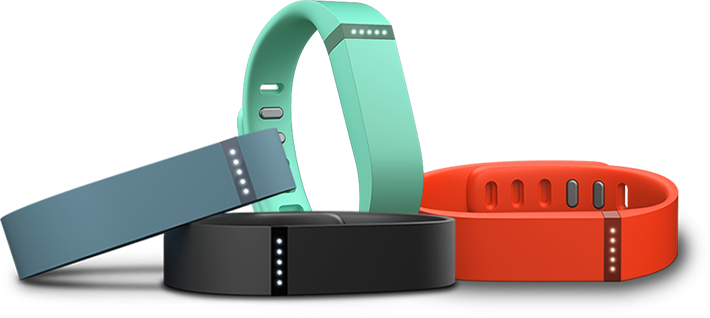 The leading players in the health gadget or health tracking category would be Fitbit. It comes in attractive colors and different sizes for different size wrists, which is a thoughtful design touch. It can also sync with your smartphone to show you certain notifications like caller ID so you can continue to keep in touch with the world as you work out! It also comes with an alarm that is silent and on vibration mode.
The Fitbit Charge HR is attractive with a finish that is textured as opposed to the usual matte finish. Weighing at a little under 25 grams, it is also comfortable to wear at all times.
For the health tracking factors, it also continuously monitors heart rate, 24 hours a day, seven days a week. The calorific burn data it shows is also accurate. It not only tracks factors like steps walked but also floors climbed and distance traveled. All this is displayed on a clear OLED display. All this data can be synced to your smartphone through apps that are available for Android, IOS and Windows Phone.
The battery life of the Fitbit health tracker is up to 7 days after an initial charge of a few hours. While the Fitbit is water resistant, it is only up to a certain limit, and it would not be wise to wear it while swimming, for instance.
The Fitbit charge HR is an elegant band that is not flashy or flamboyant in appearance. With the black colour band, you can wear it with almost anything and it is subtle enough to blend into almost any occasion without being too prominent. There are other colours available too, for the trendy and young-at-heart. The Fitbit Charge HR also has a buckle-like belt for strapping on, which doubly ensures that it does not slip off your wrist during any activities that you may be actively engaging in.
Because Fitbit Charge HR monitors your heart rate all the time, it is a more accurate barometer of how many calories you burn. The pedometer reading in the Fitbit is also highly accurate.
Another important feature of the Fitbit Charge HR is the sleep tracking mode which is automatic, so even if you forget to turn it off when you sleep or turn it on when you are awake, your health tracking will continue as before.
Use the Fitbit along with the app for even greater benefits!